NOW until December 1, 2023, ALL courses are on SALE at 20% off!!! Use LFA20FALL Coupon Code at the checkout to get this discount.
Learn Fine Arts is an online school run by Yulia Hanansen. School offers in-depth study of mosaic arts and other art forms with courses designed for complete beginners to more advanced learners. Once purchased, courses have a lifetime access and can be viewed as many times as you like from anywhere in the world. See a LIST of COURSES BY LEVEL below:




List of Courses by Level
Art Foundations and Essentials
Learn the fundamentals and apply them to other art media such as: drawing, painting, mosaics, printmaking, stained glass, graphic design, etc.
Mosaics Novice & Beginner Courses
These courses can be taken by anyone, but will especially be great for Novice and Beginner levels.
Mosaics Intermediate Level Courses
These courses are recommended for those who have a basic knowledge of mosaic making.
If you have never done mosaics before, please take a look at the Novice & Beginner Course offerings or sign up for a consultation with Yulia Hanansen.
Mosaics Advanced Level Courses
Ready for an ultimate challenge? Take a "Peony Mosaics" or ease into an Advanced Level with "Iris Flower Mosaics".
Want to do both courses? Get a course pack bundle at 15% off regular price. Pay in full or in 4 monthly installments.
Mosaics Professional Development Courses
This course is recommended for everyone wishing to learn how to price out your mosaic pieces.

Gift Certificates
Gift Certificates can be purchased in different amounts. Give a gift to a friend or a special person in your life!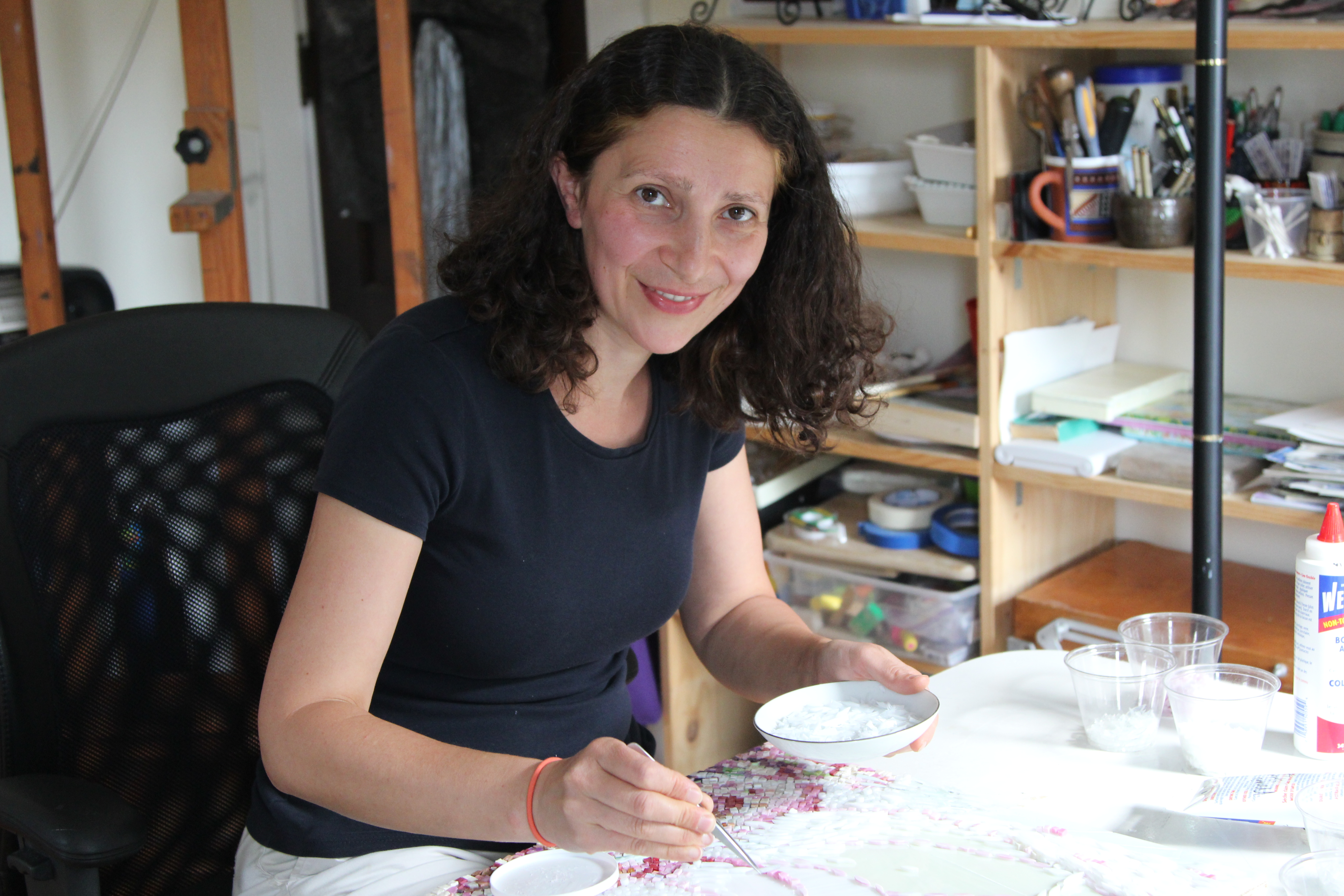 -"Yulia Hanansen is an inspiring artist and a fabulous teacher. I have taken a number of live classes with her, and also own her on-line flower mosaics and layered mosaics classes. Yulia's instruction has enabled me to elevate my mosaic and artistic technique in ways I could have never done on my own. Yulia has taken a retiree from the financial services industry and turned her into an artist! If you are someone who does not have an extensive art background but want to be an artist, take instruction from Yulia! If you have background in mosaic I guarantee you that with Yulia's instruction you will "up your game." With Yulia's help I am much more secure in my decisions about color, pattern and background. With her help I am able now to create with confidence." 
-Nicole Splitter McKinney
-"After a 2 day workshop on flower mosaics, I was blown away how Yulia demystifies color, composition, shading and cutting glass. She uses visuals and offers so many tips about tools, resources and technique. I asked her for online training. It has increased my confidence and progress. She's as good a teacher as she is an artist and that is a high bar!"
-Tammy Sachs
-"About three years ago, new to mosaic but with a couple of workshops under my belt, I took a 5 day workshop with Yulia on "Portrait Mosaics". After that workshop, my skills increased tenfold. I made a beautiful portrait of a Van Gough painting during that workshop and my understanding of glass mosaics grew by leaps and bounds. I have continued to take workshops that have improved my skills and helped me create dozens of spectacular portraits and still life mosaics that I know would not have been possible without her guidance.. I have worked with other glass teachers but Yulia's skill as a teacher and an artist has been by far the best guidance I have received to help me create beautiful pieces of art."
-Rachael Rice 
Copyright Notice
All the courses on this website are intellectual property of Yulia Hanansen, Mosaic Sphere Studio, and Learn Fine Arts. The content of the corses is protected by international Copyright Law. It is illegal to copy, distribute, sell or otherwise post these courses without owner's knowledge and explicit permission. All violators will be prosecuted to full extent of the law no matter the location.